Name:Mr Zhou

Position:Manager

Tel:0086-0579-87511097

Fax:0086-0579-87511096

Mobile:+86 13858901148

Email:sales@ykrunheng.com
Site:www.ykrunheng.com

Address:NO.1367,SONGSHI WEST ROAD, CHENGXI NEW DISTRICT, YONGKANG(321300), ZHEJIANG, CHINA
Did not find the corresponding results!
1.Product Knowledge
Snowplow: Snowplow winter snow removal equipment as important, it has a high efficiency, a significant advantage of economic, environmental, etc., with the growing economy, social progress, snow removal equipment also gradually promote the use of domestic and foreign. "Nordic Heavy Machinery"
Snowplow works: snowplow biggest advantage is clear no matter what type of snow form (floating snow, solid snow, ice), do not require the use of salt or deicing salt, able to adapt to different road conditions, no matter what the form of snow and ice are able to work with different agencies and disposable see black pavement effect, no damage to the indicator line, no damage to roads, snow removal efficiency of 95%. High density, high elasticity steel wire brush, de-icing effect, and to remove ice and a thin compacted snow on the road, and speed fast snow; you can also use asymmetric efficient push snow shovel; in addition to the thick ice aspect apart break the ice scraper roller mill, we added the impact of rolling rollers, this roller in addition to the thin ice area will play a very satisfactory results, and does not damage the road. Can be used in conjunction with rollers rolling scratch in the job, it can achieve a one-time see the de-icing effect. Auxiliary Icebreaker auger used to scrape the roll roll roll to break down large chunks of ice and snow to the roadside drain.
2.Material Description
Our big snowplow iron bucket using a large bucket, console plastic console.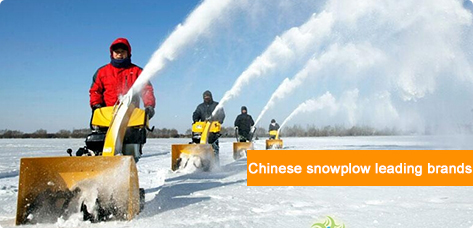 Frequently Asked Questionsmore>>
Main problems existing in snow blowers
Despite decades, many domestic research and management units do a lot of work in the introduction of the development and technology of snow removing equipment, but so far, snow removal machine does not promote the use of large area, the main reasons are as follows:
1, Low operation speed
At present, the foreign plough type snow blowers maximum snow removing speed is 50km/h, rotary cutting type snow blowers can be 70km/h. In early 90, a 1600 CBX type snow blowers developed by scientific research institute of Jilin Jiaotong University, put centrifugal impact crusher, circumferential rotary cutting and spring impact crushing three cutting functions into one set. It is superior performance and is the snow blower with high level of domestic technology. But the biggest snow removal rate was only 2.15km/h, comparing with other similar foreign snow blowers, low operation speed.
2, Low utilization rate, high cost
Although the winter snow period in North of China can be 3 to 4 months, but the data shows there is not too much snow in winter . If the snow blowers with single function, can only be used for snow removal, so most of the time in a year the machine is in the idle state, this greatly improves the snow removing operation cost, increase the burden of highway maintenance department.
3, Non-ideal avoidance function
In the snow removal process, most of the poor ability to avoid roadblocks usually due to encounter roadblocks to the host or the snow removing device is damaged. Jilin Provincial Communication Science Research Institute and the Panshi County highway management segment joint development of CL 2.4 type road snow removing device, installed prevention device to prevent excessive and avoid the chain. It can guarantee avoiding roadblocks in the snow removal process and prevent host or snow removing device damage, can also prevent excessive avoidance of chains, because of avoiding excessive damage to avoid a return spring. The device is in the domestic leading position, reached 90 in the level of foreign similar products, but it needs further verification, tracking test in the operation of the machine.
4, Poor protection ability of pavement
When the road is uneven, the snow blower operation will cause damage to the pavement. Although the extent of the pavement damaged is still not a standard, but it is not good enough in pavement profiling ability, pavement protection and some other aspects.
The working principle of snow blowers
The biggest advantage of snow blower is clearing up the snow (floating snow, solid snow, ice) without the use of salt or snow melting agent, and it can adapt to different road conditions. No matter what form of ice, it can adopt different working mechanism. It can go through the black pavement effect at once, does not damage the mark line, no damage road, snow removal efficiency is more than 95%. High density, high elastic steel wire rolling brush, deicing effect, and can clear the road on the ice and snow and snow compaction thin, fast; can also use asymmetric, push the snow shovel; in addition to the thick ice we get rid of the snow scraping roller except rolling wheel, we added a rolling punch hammer roller roller, this is in addition to ice plays a quite satisfactory effect, and no damage to the pavement. When in operation, and with the use of rolling roller scraping, can achieve one-time see deicing effect. The auxiliary ice auger can be used a large ice scraping roller rolling rolling down to break the row to the side of the road...
How to solve the maintenance of snow blowers?
Our company is specialized in the design and manufacture of snow blowers, mini tillers, chain saws, brush cutters, hedge trimmers and other garden tools. Our production capacity reaches 20,000-40,000 snow blowers and 50,000 other machines per year.